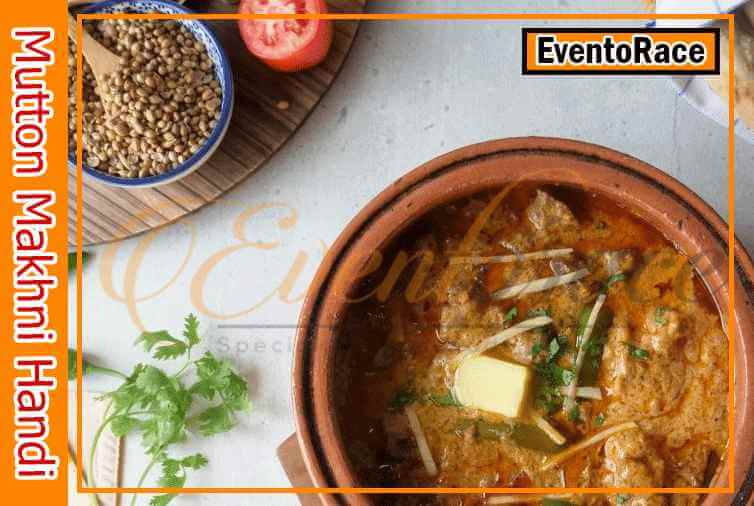 Mutton Makhni Handi Recipe
This is one of the easiest recipes made by restaurant owners and it tastes great. follow the easy step-by-step guide to cooking this juicy Mutton Makhni Handi Recipe as shown in Evento Race
Full Preparation time = 25 mint
Cooking time = 80 mint
For how many people = 4
Ingredients of this dish
kg of goat meat

Salt to taste

Tablespoons crushed ginger garlic

Medium onions

Capsicum one medium

Crushed white pepper half a teaspoon

One teaspoon of ground black pepper

White cumin a teaspoon 9 yogurt half a cup

Almonds four to six pieces

Half ½ a cup of fresh cream

One cup of milk

Tablespoons butter

Four tablespoons of cooking oil

Also Read: Yogurt Chicken Roast Recipe
Step by Step Instructions
1. Lightly fry onion, capsicum, and almonds in butter then add half a cup of water and keep it boiled for 5 to 7 minutes.
2. Wash the meat and marinate it with ginger, garlic, salt, pepper, and two tablespoons of yogurt and leave it for 15 to 20 minutes.
3. Then fry the marinated meat in cooking oil until golden and add milk and cook over low heat.
4. When the meat is melted, grind the onion mixture and add it and cook on low heat till the meat is completely melted. Leave on for seven minutes.
Tags: