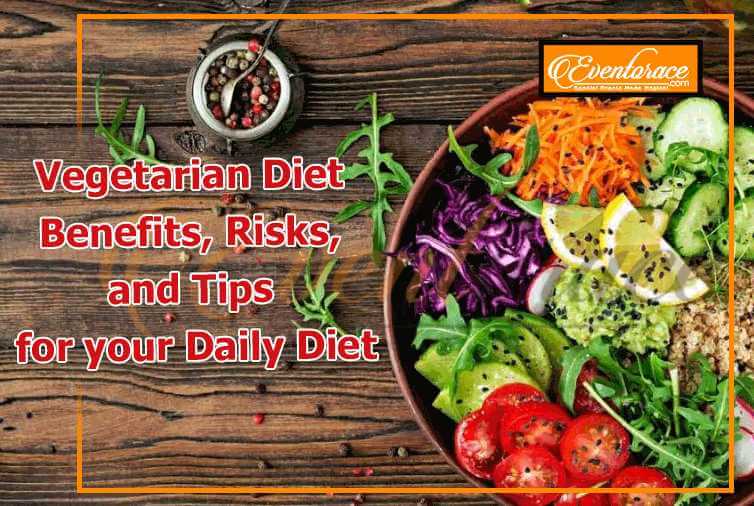 Vegetarian diet benefits, risks, and tips for your daily diet
Our body's needs are not only met by meat or poultry foods but also many important ingredients are obtained from vegetables, fruits, pulses, etc. The importance of meat cannot be denied, but it is also a recognized fact that vegetables protect humans against various diseases.
That is why the trend of eating vegetables is getting stronger in most of the countries of the world today. There are vegetarians in the world who do not eat meat at all, but occasionally eat eggs and dairy products, while some people even eat fish. Experts have proven another benefit of this invaluable gift of nature. This utility is intended to stimulate the creativity of fruits and vegetables.
In addition to the physical benefits of previous research, experts have found that people who eat more fruits and vegetables are more satisfied with their lives. Even if their education, physical activity, and economic status are limited, they are able to look at the positive aspects of life. Some of the ingredients in vegetables make the body resistant to diseases, help in the development of our body, and protect human beings from various diseases. The increasing use of vegetables and their importance can be gauged from this. The Vegetarian Society was established in England in 1847 to educate the people about the benefits of vegetables and to encourage them to use vegetables.
During the twentieth century, this trend began to spread rapidly in Western countries. There are currently a large number of vegetarians in the world. Scientists call vegetables a protective food because their regular consumption in appropriate amounts protects against various diseases. A low intake of vegetables in the diet leads to anemia in the body. Early evidence of this trend is found in the sixth century AD in India, Greece, and Italy. The Vegetarian Diet is one of the eight most popular diets in the world, which helps keep the body in balance. Those who are on a vegetarian diet should gradually change their diet. Vegetarian diet users weigh less than the average person. Cholesterol is controlled, such individuals are relatively old and less likely to develop cancer and other diseases.
Vegetables play an important role in the human diet. They contain all the ingredients that are often found in very small quantities in most commodities. Vegetables are rich in proteins, vitamins, and minerals. Which helps in maintaining various functions in the human body. Vegetables are used directly in the form of salads, boiled, cooked, or some vegetables, used as spices.
Also, Check: Your eating habits affect your health
Not only sound education but his alertness, and dedication too are most required.. Green leafy vegetables (spinach, fenugreek, and other greens, etc.) are rich in mineral salts, iron, and phosphorus, which help to reduce anemia, bone, and tooth weakness in the body.
Some vegetables (onions and garlic) contain chemical compounds that do not allow excess fat to clot in the arteries and have the natural ability to dissolve it. Due to which a person is protected from heart diseases. As vegetables are easily digested and fibrous, they help in removing all the waste products from the human body.
Tags: