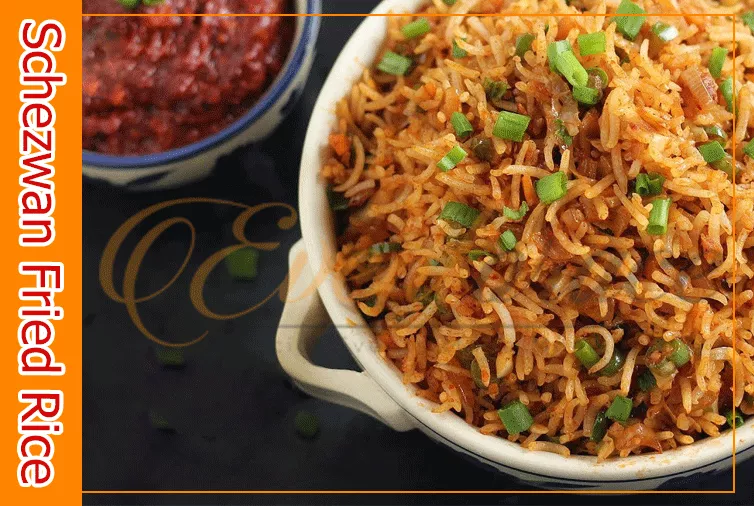 Recipe of Schezwan Chicken Fried Rice
Learn how to make Schezwan Chicken Fried Rice today, one of the most popular dishes of Chinese cuisine. It's too much easy to make and a very hot, and spicy dish. You can adjust the red pepper and squash sauce to your taste. let's start to make this recipe and enjoy it with friends
Completion time = 15 mint
Cooking Time = 45 mint
For how many people = 5 persons
Ingredients of this dish
Chicken (boneless herbs) 250 grams
Half a kilo of rice
salt According to taste
one teaspoon of crushed ginger garlic
Ten to twelve cloves of garlic
Three to four Kashmiri peppers
One teaspoon of crushed red pepper
One cup cabbage ( Finely Chopped )
Half a cup of carrots ( Finely Chopped )
Half a cup of green onions( Finely Chopped
Flour a tablespoon
One tablespoon of cornflour
One pinch of lemon food color
Two tablespoons of vinegar
Two tablespoons soy sauce
Cooking oil as required
Step by step Instructions of Recipe for Schezwan Chicken Fried Rice
Step One Wash the chicken and dry them in a sieve, then marinate them with salt, ginger, garlic, and red pepper. Then add food coloring in cornflour and flour and roll the chicken in it.
Step Two In a non-stick frying pan, fry the chicken in one to two tablespoons of cooking oil on high heat, then cover, cook on medium heat for four to five minutes and remove from the oven.
Step Three To make Schezwan sauce, chop Kashmiri peppers and boil them in a cup of water. After cooling, grind them in a blender with garlic lice and add salt to it.
Step Four Fry finely chopped cabbage, green onions, carrots, and capsicum in a tablespoon of cooking oil over high heat.
Step Five Then add fried chicken and custom Schezwan sauce and finally add rice (already boiled) and mix well, and when it is well heated, take it off the stove.
Schezwan Chicken Fried Rice Recipe. Learn the easy way to make it, this recipe has all the ingredients with step-by-step instructions and methods for making and cooking it. Schezwan fried rice is biryani and rice, and it's easy to make. It only takes 20 minutes to prepare and only takes 50 minutes to make. This recipe is enough for 5 peoples, And many more recipes are available online.

Tags: